Dartington Online Writing Retreat Blogs #1 – Developing Inclusive Learning Environments Online
By Sarah Dyer and Lisa Harris in synchronous co-authorship 🙂
This blog post supports a session in the 18th Academic Practice and Technology Conference (#APTconf) on 6th July 2020 which will be led by Sarah Dyer and Lisa Harris. In a session titled 'A collaborative, real time approach to developing inclusive learning environments within the Education Incubator', we will explore the potential of real time collaborative writing in the context of an "online writing retreat". This retreat would normally be a face to face experience, but was moved online for obvious reasons in Spring 2020. So we will also discuss the experience of taking part in an online retreat with its more traditional format.
By providing the background and context in this post we can spend the synchronous time with conference participants in active discussion and demonstration of collaborative real time writing – a kind of 'flipped conference session', if you like.
Introduction to the Exeter Education Incubator Dartington Writing Retreat
The Education Incubator was set up by the University of Exeter in 2017 to support educational innovation across the University. Until recently, it operated on the basis of 'networked professional learning' largely within a physical environment on campus. Academics and professional service colleagues are awarded funds, through an open competition, to undertake innovation and action research projects aimed at improving their students' educational experiences and outcomes. Often these projects are run by teams from different departments and in different roles. For the duration of their projects those running projects are 'Incubator Fellows'.
The Incubator has held a 48-hour residential writing retreat for the past two years. The retreat is held at Dartington Hall near Exeter, which is a country house set in beautiful gardens and extensive grounds. The event is open to Incubator Fellows coming to the end of their projects and those about to embark on them.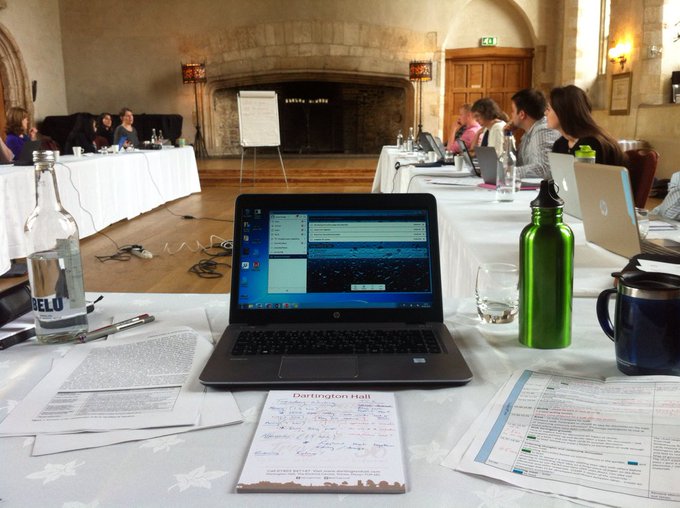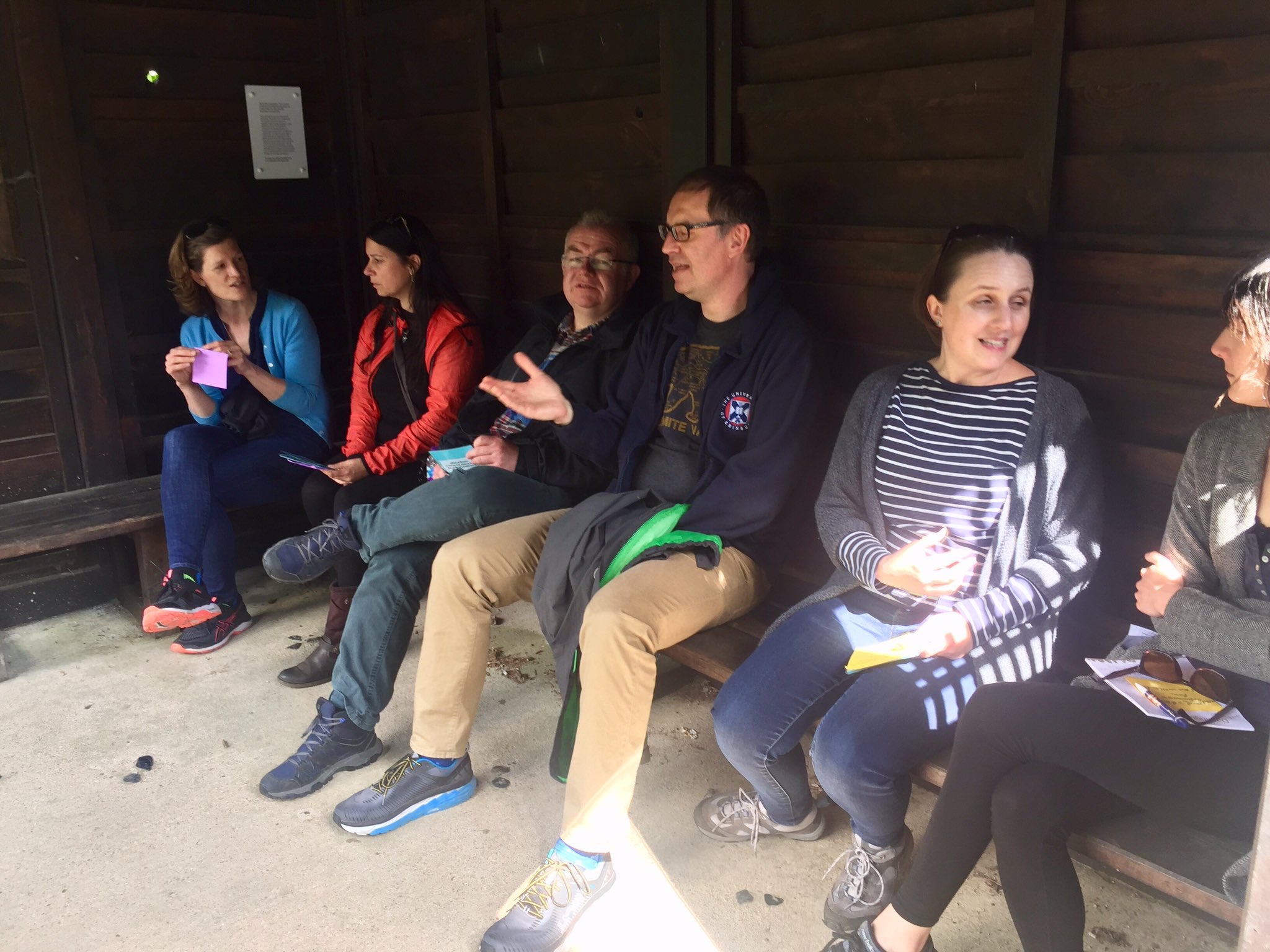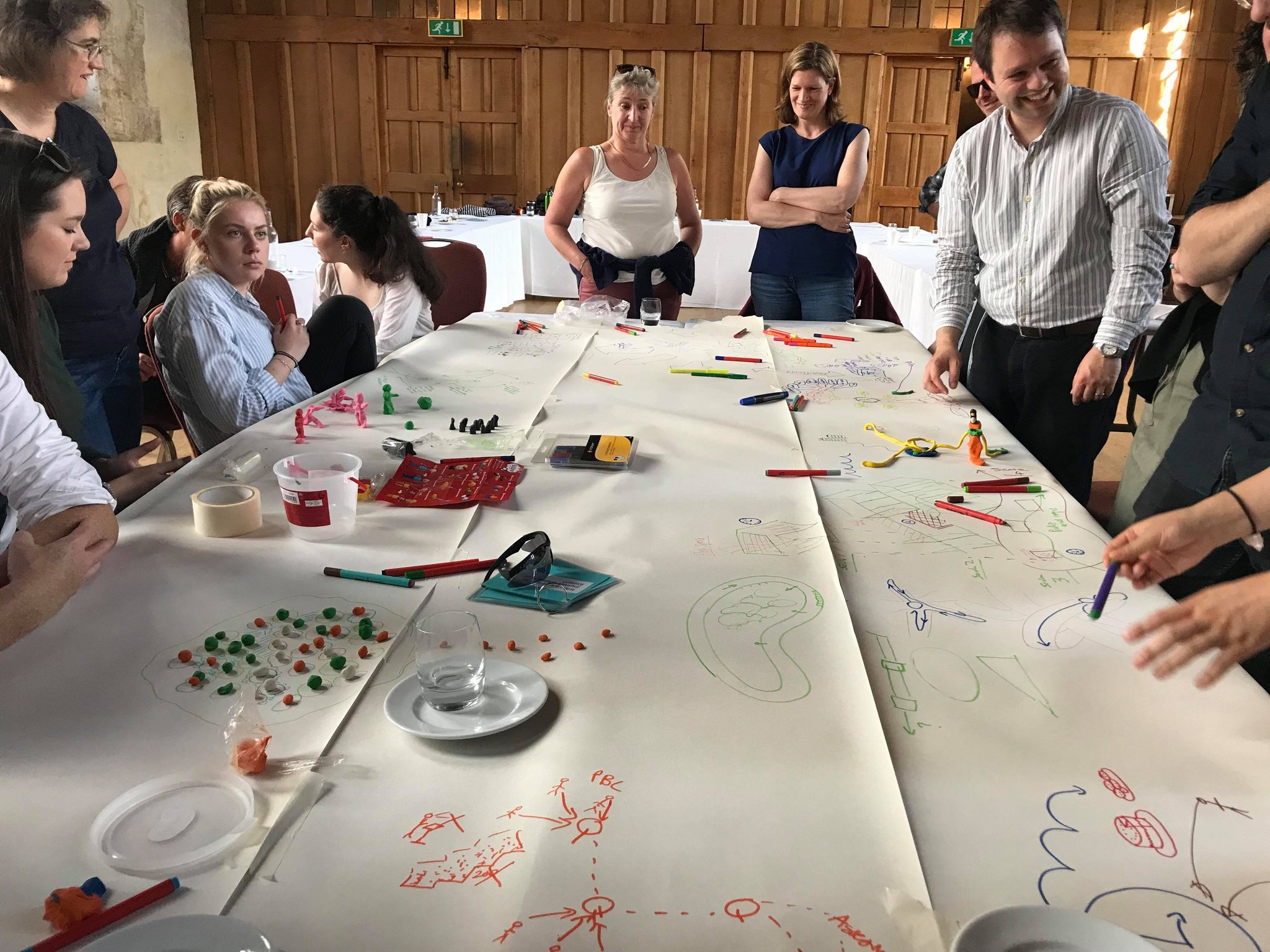 As a 'capstone' of the year, the retreat exemplifies our values and ways of working. The primary rationale is to encourage people to write about their projects in order to spread good practice, develop ideas and thinking, and support fellows' professional development. In doing so, we bring together a diverse group of people to learn from and support each other. Some Incubator fellows are on education-focused contracts. They may not have been encouraged or supported to write. Those on research contracts may not have a sense of writing about education as part of what is possible in their role. Many fellows, particularly those with caring responsibilities, struggle to find enough time for 'deep work' and we all have many mixed emotions about writing. We use a 'social structured' writing retreat model (Murray and Newton 2009) and everyone who has taken part has really valued the time and space it has created to write.
The retreat also creates and values social space. In this space people meet and get to know others and deepen existing professional relationships. The Incubator has a core commitment to encouraging networking with fellow educators and senior academics from across the Institution as a way to create and sustain change and innovation. We invite these decision makers to join us for dinner to share our work and provide an opportunity for Fellows to get to know them a bit more in a relaxed setting. In 2020 we also invited an external participant with a lot of experience supporting education in UK universities, to encourage Incubator Fellows to think beyond their own institution and practice this kind of networking.
When our booking for the Dartington location was cancelled in March 2020 we had to consider what putting a very "physical" event online would require. In the rest of this blog we highlight three techniques we used to create and evaluate our 2020 virtual retreat.
Pre-retreat collaborative work
In the lead up to the retreat we shared some orientation documents with all participants for them to absorb and contribute to beforehand. These included a co-created annotated bibliography, a schedule for the session and other items of background reading. Of particular interest was the invitation to share favourite recipes and tips for refreshing between writing stints. This received a number of useful contributions including photos and personal commentary:
The aim of the pre-retreat collaboration was to both introduce and 'scaffold' collaborative writing and to begin to create a particular 'atmosphere' which would distinguish this from our everyday work meetings.
2. Three levels of activity at the retreat
In planning the retreat it was clear that it would be difficult to recreate some aspects. In the Dartington setting, for example, we have a walk together in which we take part in a structured conversation. We then return to the great hall and continue the discussion in small groups and as a whole group, using tools such as plasticine and different spaces in the hall. We considered whether this could be the inspiration for an online activity – whether pairs could 'take a walk together' using a mobile device or individuals could bring something back (a photo or thing) from a walk to discuss. We decided not to pursue this because we didn't have a sense of people's circumstances in lockdown.
The three 'spaces' we decided it was crucial to recreate online were that of individual writing time, interaction as the whole group, and the 'accountability' conversations you have with the person you sit next to in the physical retreat. We called this final space 'buddy' groups. We scheduled time for each of these. Individual writing time makes up a lot of the retreat but is structured and supported through buddy and whole group time.
Accountability is one of the powerful techniques in social structured writing (Murray and Newton 2009). We created this space online by putting people into groups of three 'buddies'. We were lucky enough to have at least one person in each of these buddy groups who had been to the physical retreat and could take an informal lead role in setting the tone and keeping the group to task. In these groups participants shared plans for their writing and then discussed how their writing sessions had gone and what they had achieved.
3. Real time collaborative writing
In the final session of the retreat participants were asked to work in real time on a shared document for 30 minutes to create a short blog post together. To begin with the whole group wrote in one document, responding to two questions: What is the thing you know or do, that you want others to know of (to create inclusive online education)? What is the thing that you don't know, or don't know how to do, or worry about doing well….. (to create Inclusive online education). In 10 minutes the group wrote nearly 3,000 words. We then annotated each others' work, adding comments, identifying common themes, and finding small groups to work with. These small groups then worked together for a further 40 minutes. Some drafted blog entries whilst others used the co-authoring as means for 'thinking' together.
4. APT conference
In our conference presentation we will be asking attendees to try real time collaborative writing out for themselves in the session. We found it a very useful way of focusing the mind to get a specific task done without distractions. Actually seeing someone else's text appear in your document while you are writing and making/receiving immediate edits was a very satisfying indicator of progress. It opens up different possibilities for interaction with people in very concrete ways, given the overlap of different roles and identities while working from home:
Integrating different meetings via chat/attachments/conversation that can be enhanced over time
Creating a repository of relevant materials relating a specific issue
Combines contributions that can be superficial comments, useful conversation and also deep writing – offering depth and breadth of opportunities
And it kept us focused on writing instead of procrastinating on email or social media!
"Collaborating with others across the university is really valuable. Short bursts of time can be incredibly useful for producing writing. I am encouraged and energised by others." (Participant feedback)
Feedback from participants also suggested that the objectives of the set task should be made very clear in advance so that the short time allocated can be used most productively. It is also important to make sure that the documents to be worked on are fully accessible to all participants, avoiding the perils of institutional firewalls for external guests (Googledocs are best for this).
We have used the same approach in writing this blogpost together. Firstly we set ourselves 15 minutes to get writing within a pre-agreed framework of sub sections, then we followed up with 2 x 15 minutes to review, comment and edit what we had each contributed.
We are looking forward to meeting and speaking about this virtual event with you further at the APT conference in July.
The University of Exeter's Education Incubator scheme. Promoting pedagogic innovation and collaboration with an aim to enhance learning across the University and beyond.